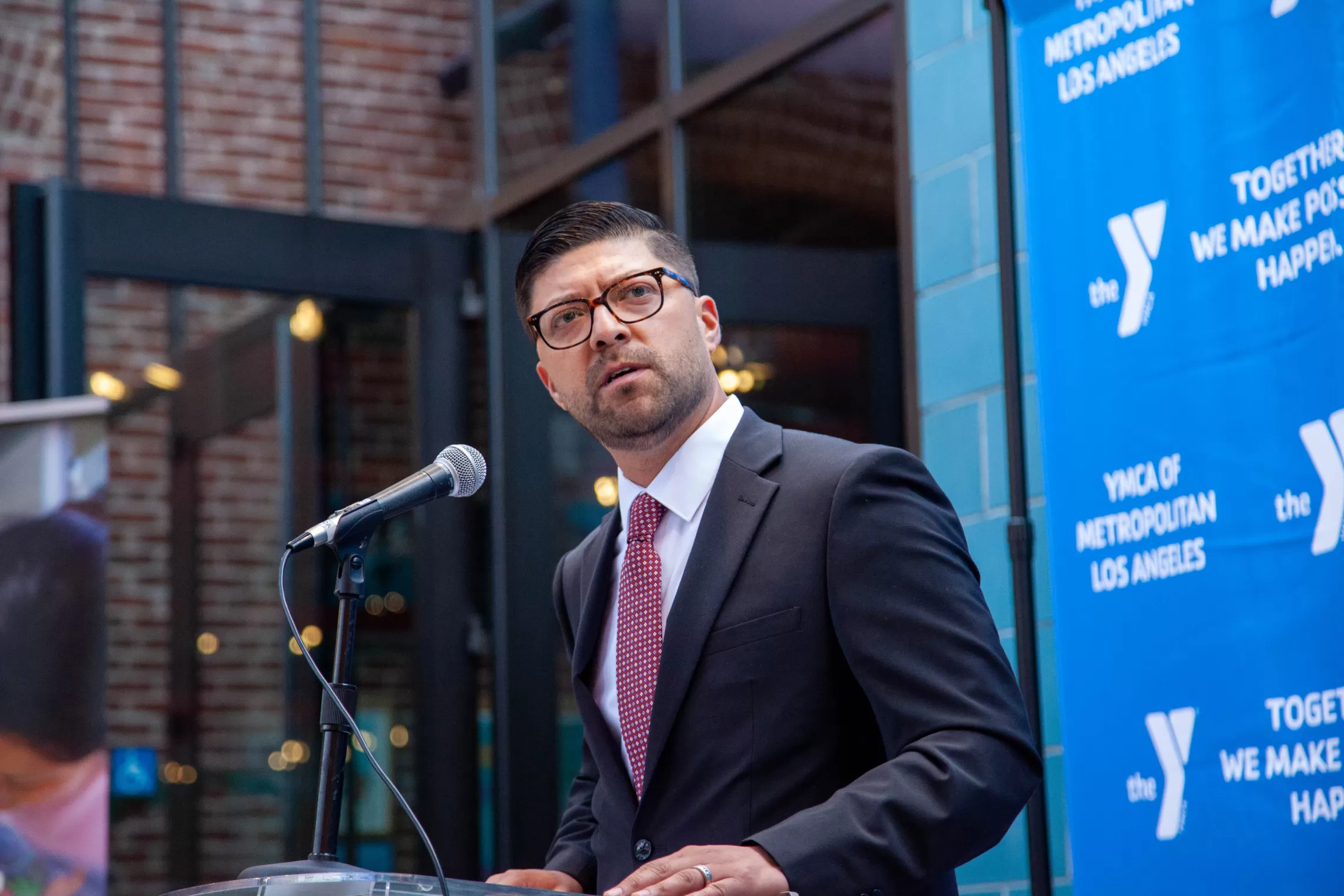 FOR IMMEDIATE RELEASE - APRIL 8, 2022
Media Contact: Lisa Vega / 213.247.3075 / lisa@lisavegagroup.com
VICTOR DOMINGUEZ APPOINTED PRESIDENT & CEO OF YMCA OF METROPOLITAN LOS ANGELES EFFECTIVE APRIL 1
(April 8, 2022, Los Angeles, CA) - Victor Dominguez is the newly appointed 13th President & CEO of the YMCA of Metropolitan Los Angeles effective April 1st. He is responsible for overseeing and leading its 27 branches, 3 camp sites and various other program locations throughout Los Angeles. The LA Y has a rich history that spans 140-years and continues to grow every day. They are the oldest and largest youth & family serving nonprofit in LA County.
"I am honored to lead the LA-Y in this new capacity and will build upon our legacy that has allowed the LA-Y to have unprecedented impact," said Victor Dominguez, 13th President and CEO, YMCA OF Metropolitan Los Angeles. "As we move forward, I will work in partnership with our Y team and external partners to understand what our communities' needs are to help guide us in creating a more equitable Los Angeles."
In his new role, Mr. Dominguez will continue to focus on the LA-Y's five areas of impact: Sports, Education, Youth & Teens, Food Insecurity, and Healthy Living to innovate, scale, and be a bridge and resource in local neighborhoods. The Y is committed to helping families recover from the challenges of the pandemic by reintroducing traditional and new Y programs to strengthen the communities it serves.
"We are proud to announce Victor Dominguez as CEO & President of the YMCA of Metropolitan Los Angeles. Out of a nationwide search that yielded 72 potential candidates, Victor surfaced as the ideal candidate to lead the LA Y into the future at this time," said Andrew Crowell, Chairman, Board of Directors, YMCA of Metropolitan Los Angeles. "Victor's leadership inspired us and our community partners to look for new opportunities to expand our reach in supporting underserved communities to meet vital needs during the pandemic. We know his commitment to equity, inclusion, and diversity will continue to increase our ability to build stronger communities throughout Los Angeles."
"I am absolutely thrilled that the Board of Directors of the YMCA of Metropolitan Los Angeles has elected Victor Dominguez to succeed me as the Y's next President & CEO. I have worked with Victor over the past two decades and watched him develop into a strong community builder, change agent, and strategist," said Alan Hostrup, outgoing President and CEO, YMCA of Metropolitan Los Angeles. "His vision for the Y movement is one of creating equity, collaboration, youth development and inclusion amongst the Y's half million members. A relationship builder at the highest level, he is the perfect leader to take the Los Angeles Y and its 27 community branches and three mountain camps to the next level of service. The Los Angeles Y is recognized globally for its innovative programs and commitment to serving young and older members. I could not be prouder of Victor Dominguez and pledge my support of him as I begin my retirement concluding 47 years of YMCA leadership."
For the last two decades Mr. Dominguez served in an executive role at the YMCA of Metropolitan Los Angeles, holding various positions across the Association. Under his leadership, the LA Y created and launched the Cradle to Career initiative as well as the Achieve LA program. Mr. Dominguez led the organization through implementing a youth workforce development program, as well as expanding the early learning and
PLAY programs, which have especially proven their effectiveness in urban communities. Immediately prior to his role as CEO, Victor served as Executive Vice President and Chief Mission Advancement Officer for the YMCA Of Metropolitan Los Angeles. Prior to working for the YMCA of Metropolitan Los Angeles, Victor was the Executive Director for the YMCA of Greater Long Beach. He has been a National trainer for Boys & Girls Clubs of America, training adolescents in the country how to become leaders in their communities.
His passion for working with under-resourced and vulnerable communities has been evident throughout his career. Mr. Dominguez is the founding member of the Southeast Los Angeles Collaborative (SELA). The Collaborative is dedicated to uplifting the Southeast region and inspire young leaders to have a pathway for success. He is also the founder of the Youth Empower Summit which brought together more than 700 teenagers annually for 5 years, from underserved neighborhoods onto the USC campus for a day of learning and inspiration. Throughout his nonprofit career, Mr. Dominguez has also received numerous awards and been recognized by various elected officials for his dedication to community. He was named by the Los Angeles Dodgers as the Hero in the Community (2013) and was recognized by the City of Fullerton Success Story of the year (2002). He was one of three YMCA of the USA professionals to be given the Andrew Young Award for celebrating diversity in the workplace (2006).